Flying Fox February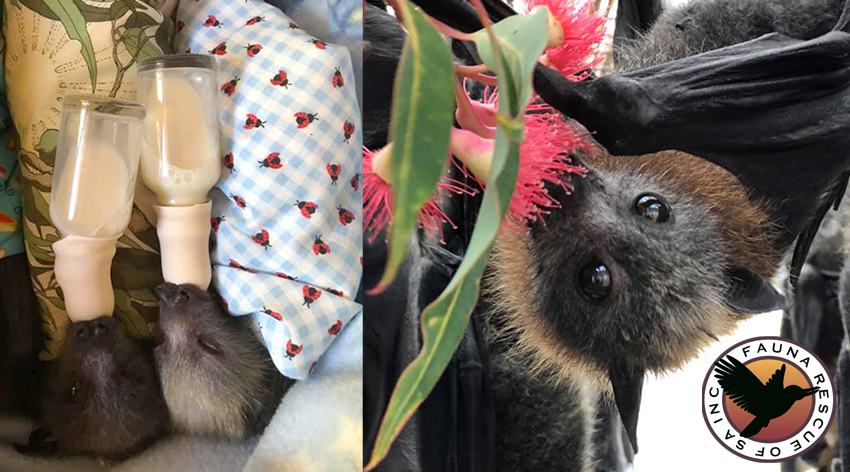 Fauna Rescue Fundraiser
Earth Greetings will be donating 5% of all profit in February to Fauna Rescue SA to help them care for 150 sick and orphaned Flying Foxes.
On Thursday 24th January 2019 Adelaide was hit with a temperature of 46 degrees. We have only one flying-fox colony in South Australia, Grey Headed Flying-Foxes which reside in Botanic Park in the city of Adelaide. Flying-Foxes are a vulnerable species vital for the environment as they disperse seed and pollen.
Flying-foxes do not cope well with heat and this high temperature had catastrophic results for the colony. Fauna Rescue SA do not have a final figure yet but expect the figure to reach 3,000-4,000 flying-foxes that were lost. The Fauna Rescue Bat Team was out in the heat all day saving what bats they could. In total they bought in to care just over 100 bats. With other orphans now in care that makes 150 bats in the care of Fauna Rescue. Most of them are juveniles. Due to the high number of adults lost they could not try to return them to their mothers as most would now be deceased.
Fauna Rescue are in desperate need of funds to buy fruit, High Protein Supplement and fruit chopping machines. Each bat will require up to 350-400gms of fruit per night and this adds us to a whopping 60kgs of fruit per night. Fauna Rescue urgently need 2 fruit chopping machines at approx $1,000 each. As well as shopping with us in February, if you can donate to Fauna Rescue to help, you will be helping to save a vulnerable species.
Fauna Rescue is a not for profit organisation run by all volunteers and receives no government funding. You can support Fauna Rescue directly by visiting their website for instructions on how to donate to the Flying Fox Campaign or their Go Fund Me Page. You can also visit Fauna Rescue on Facebook.