Founder's Story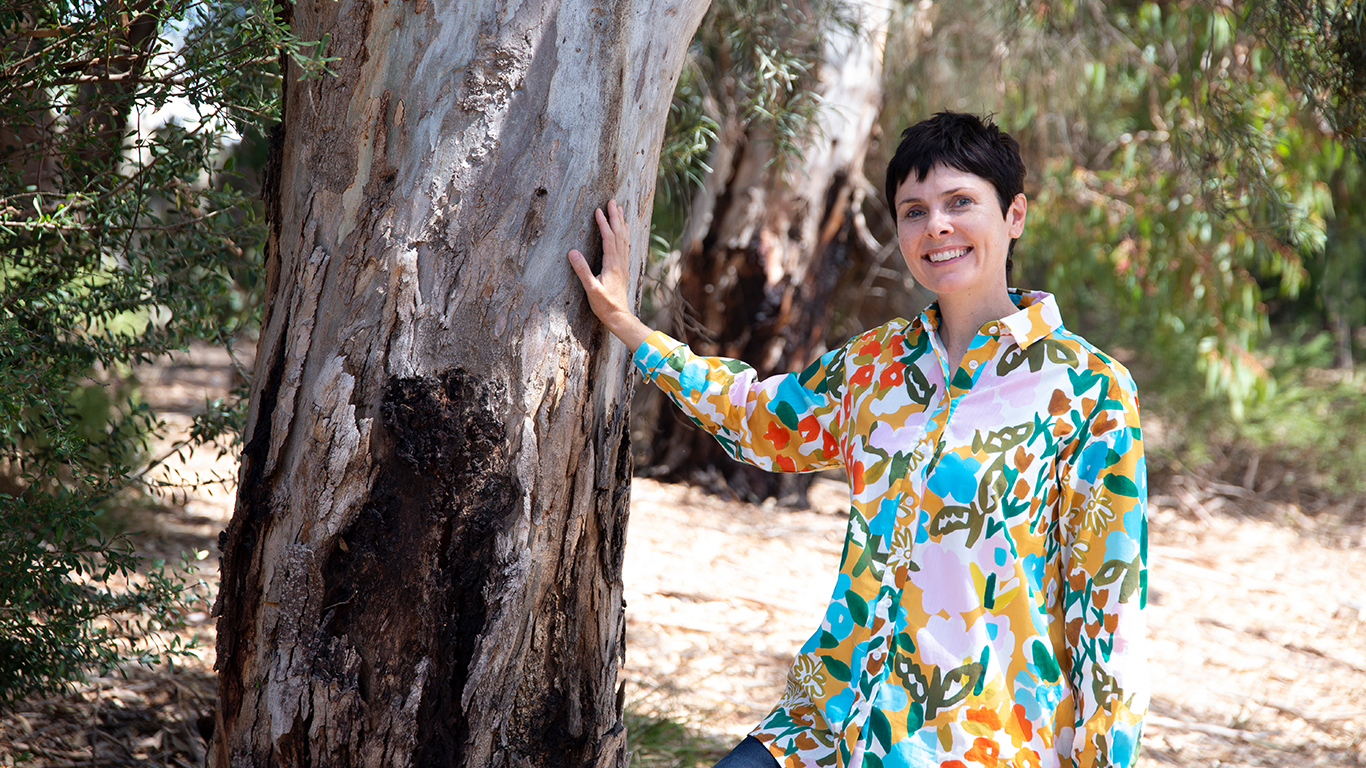 Founded on a love of nature.
After growing up surrounded by kookaburras and koalas in the Adelaide foot-hills, and since exploring many bushwalks and wild places throughout Australia, our founder Heide Hackworth has a long held and deep love for Australian nature and wildlife. Heide became a vegetarian at the age of 15 and has been a committed vegan for over a decade. She lives a low-waste lifestyle and prefers to walk or cycle where possible. She is passionate about the plight of animals, and protecting the land she loves from pollution, deforestation and the impacts of the climate emergency.
"Nature is my happy place. Here in nature, my mind expands from knowing we are connected to something greater than ourselves."
After working behind the scenes in the publishing industry in her early 20's, Heide witnessed many wasteful practices first hand. She wondered if there was a better way to live and work in ways which were more sustainable, which inspired her to create Australia's first earth friendly greeting card and stationery brand in 2003.
Heide began to explore the possibilities to achieve her vision: To create Australian designed, made and inspired products that had minimal impact on the environment, while providing a platform to support the wild places and unique animals she loved so much, but were being threatened by climate change and increasing habitat loss.
But as Heide peeled back the layers of the paper and print industry, she realised how difficult the journey would be. Everywhere she looked, she uncovered the destruction of nature - just to make paper products. From the demolition of dense and diverse forests and the loss of habitat for wildlife, to the carbon emitting transport and huge amounts of water use and pollution created by toxic inks, pulping forests and bleaching paper.
"The realisation that the native-forest paper and traditional print industries were overwhelmingly unsustainable at that time, made me even more determined to create a business with a purpose: To tread lightly on the planet and give back to the wild places I love, instead of destroying them."
But it wasn't going to be easy. When Heide started Earth Greetings in 2003, there were very few existing sustainable business models to learn from. But she was determined, and sourced recycled card stock at a time when it was rarely used, and expensive. She found a printer using vegetable inks exclusively. She connected with Australian artists who shared her love for the unique native plants and wildlife which she loved.
Almost two decades later, many truly sustainable businesses are thriving, and Earth Greetings is one of Australia's most established earth friendly gift and stationery brands.
Heide's original vision - to use sustainable and ethical materials and processes exclusively to make beautiful and useful products with the lightest possible planetary footprint, whilst giving back to our planet and supporting the native wildlife she loves, is still our goal today.
To achieve Heide's vision of giving back to our planet, Earth Greetings donate over 10% of its profits to care for native wildlife and habitat restoration. Some of the organisations we donate to include WIRES Wildlife Rescue, Fauna Rescue, Nature Conservation Council, Save The Bilby Fund, Animal Rescue Cooperative.
Additionally, Earth Greetings are an ongoing sponsor of Trees For Life, enabling them to plant over 50,000 trees from our donations so far!
Earth Greetings are certified by Carbon Neutral who undertake an annual emissions and waste audit of our entire business operation, including the creation and transport of our products, and delivery of all of our orders. We reduce waste and emissions where possible, and for those we can't, we purchase carbon offsets which are invested in the Yarra Yarra Biodiversity Corridor to help protect and recover declining woodland and shrubland fauna, making us a carbon neutral business.
Earth Greetings are more committed to Our Purpose than ever.
With humanity facing an ever more urgent climate change crisis, and mass extinction threatening plant and animal species throughout the world, we believe the world needs businesses who are willing to lead, and who encourage people to re-connect with nature, and care for each other, our unique wildlife and our planet.
You can listen to our founder Heide telling more of her story in this podcast.