DIY Eco-Friendly Bon Bons
Author: Rebecca Robinson Date Posted:3 November 2022


Are you dreaming of an eco-friendly Christmas this year? Homemade Bon Bons are a great way to reduce plastic waste while adding a personal touch to your Christmas spread!
DIY Eco-Friendly Christmas Bon Bons
Our easy DIY Eco-friendly Christmas Bon Bons tutorial will show you how to make fun bon bons using recycled paper that are more sustainable, and budget friendly too.
Are DIY Bon Bons better for the Environment?
Christmas is a time of joy and magic but it can also be a direct cause of a lot of waste. Something that we can avoid is store-bought bon bons which are packaged in and contain disposable plastic. This doesn't mean we have to miss out on the fun of popping bon bons with our loved ones. Homemade bon bons are a fun and inexpensive option that don't cost the Earth.
A great way to make your DIY bon bons even more sustainable is to reuse left over bits of wrapping paper or opt for eco-friendly wrap like 100% post consumer recycled wrapping paper.
Are DIY Bon Bons Cheaper?
Making your own Bon Bons is not only better for the environment it can also be better for the budget too. While store-bought bon bons can cost anywhere from $3 per bon bon to $8 per bon bon, homemade bon bons can be very inexpensive especially if you are using repurposed materials. Using Earth Greeting's wrapping paper is also a thrifty option as one sheet will make 6 bon bons, working out to $1.08 each. Fillings can be budget friendly too if you opt to making them yourself. Hand written jokes and messages or paper hats made from newspaper are great options.
What to put in the bon bons
Bon Bon fillings needn't be boring or tacky. One of the great things about making your own bon bons is that the possibilities for fillings is limited only to your imagination and the size of the bon bons. Delight your loved ones with a plastic-free sweet treat or surprise your adult guests with a miniature bottle of alcohol. The kids might like a felt finger puppet, wooden toy or some marbles or a tiny cookie cutter.
Collecting little trinkets and treats for your bon bons is another way to really personalise them and create a lovely surprise for your guests. If you have young children you can invite them to do tiny drawings to include or go on a nature walk and see what special little pebbles, gum nuts or feathers you can discover.
How to make a DIY Eco-Friendly Bon Bon
What you need:
Toilet rolls - we used Who Gives A Crap because they are recycled, and help build toilets!
Wrapping paper or brown paper
Scissors
What to fill Bon Bons with
Jokes
Flower or vegetable seeds
Plastic wrap free lollies
Paper hats
Wooden toy
Wooden, felt or paper Christmas decoration
Small coloured pencils
Small crystals or polished stones
Tiny bottles of alcohol (Adults only)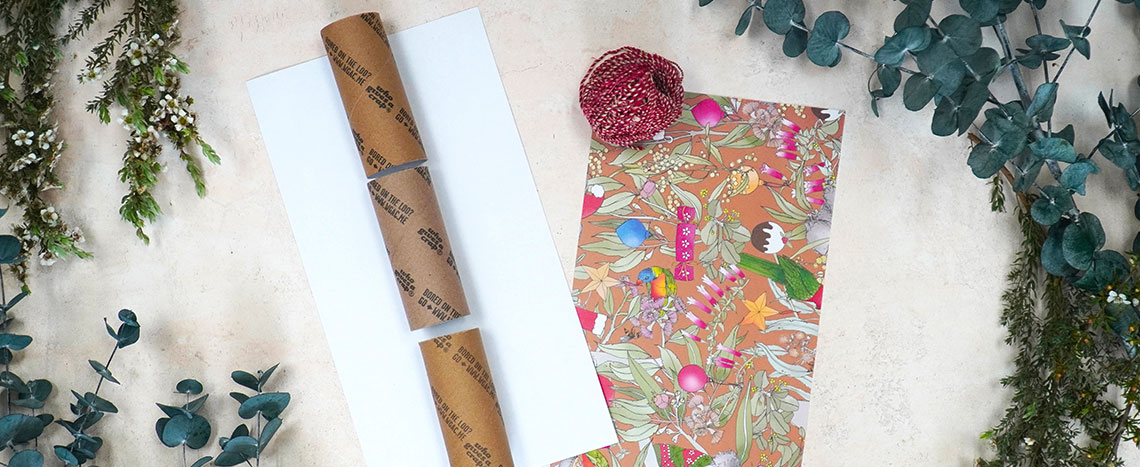 Step One
Using three toilet rolls as a guide cut a piece of wrapping paper the length of three toilet rolls and wide enough to comfortably wrap around the circumference of the rolls, approximately 30cm x 16cm. One sheet of Earth Greetings wrapping paper will be enough for six bon bons.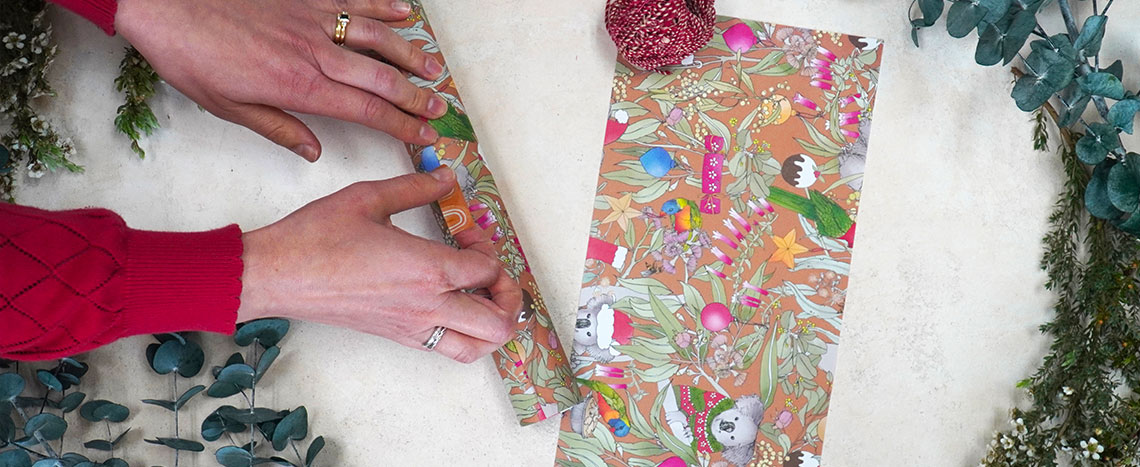 Step Two
Wrap the paper around the three toilet rolls and tape into place at the centre with washi tape. It can also help to add a little washi tape to each end to hold the ends in place for the next step.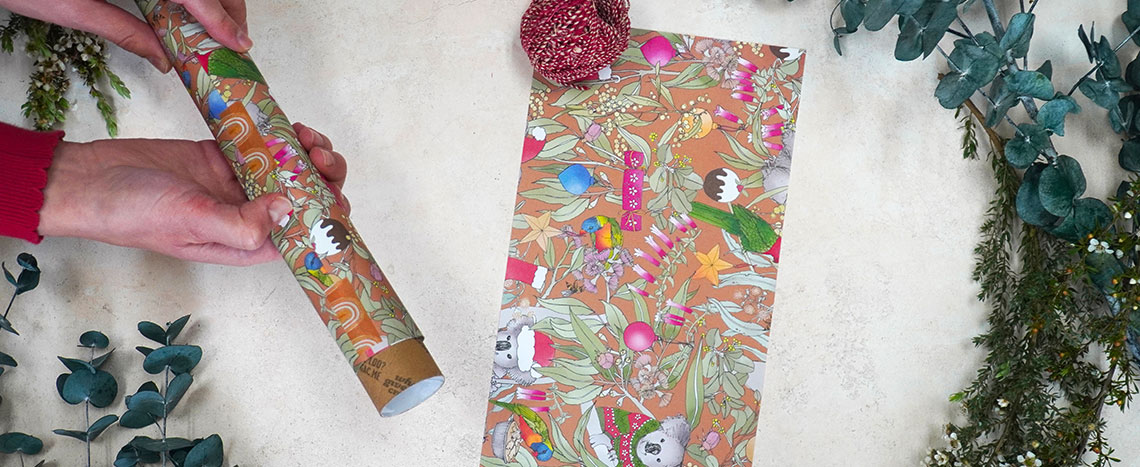 Step Three
Slightly pull out one of the rolls (around 1 - 2cm) and gently begin to push the paper inward all around the gap between the centre roll and the one you have pulled out. You may need to go around a few times to create enough creases.
Step Four
Once you have finished making the creases hold the centre of the bon bon with one hand and with the other hand on the end you are working on gently push down and twist the end of the bon bon.
Cut a piece of hemp twine or string approximately 25cm long or desired length.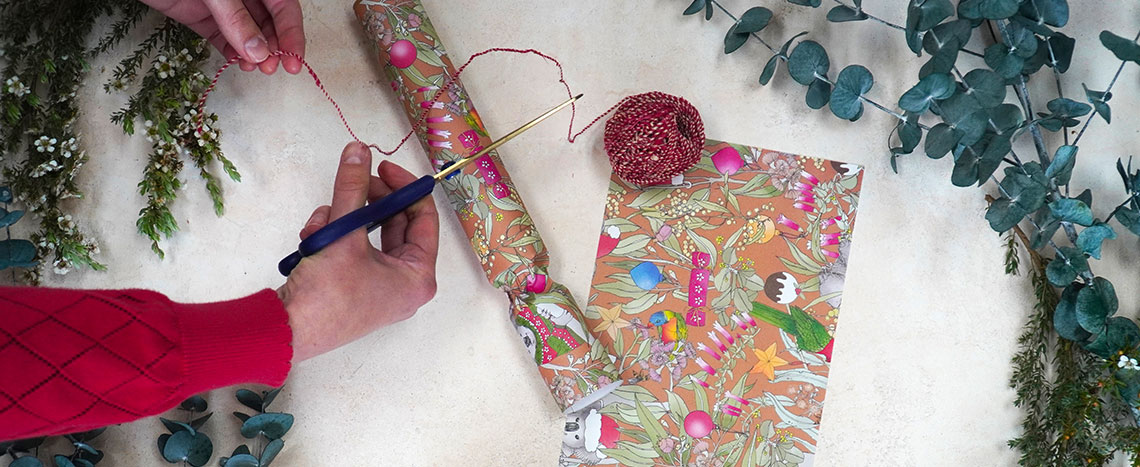 Step Five
Tie hemp twine or string firmly around the creased and twisted area of the bon bon. If you are using bon bon snaps, insert one before you tie the twine (this is optional).
Step Six
Turn your bon bon around and insert bon bon fillings through the open end. Repeat steps 3 - 5 on the open end of the bon bon.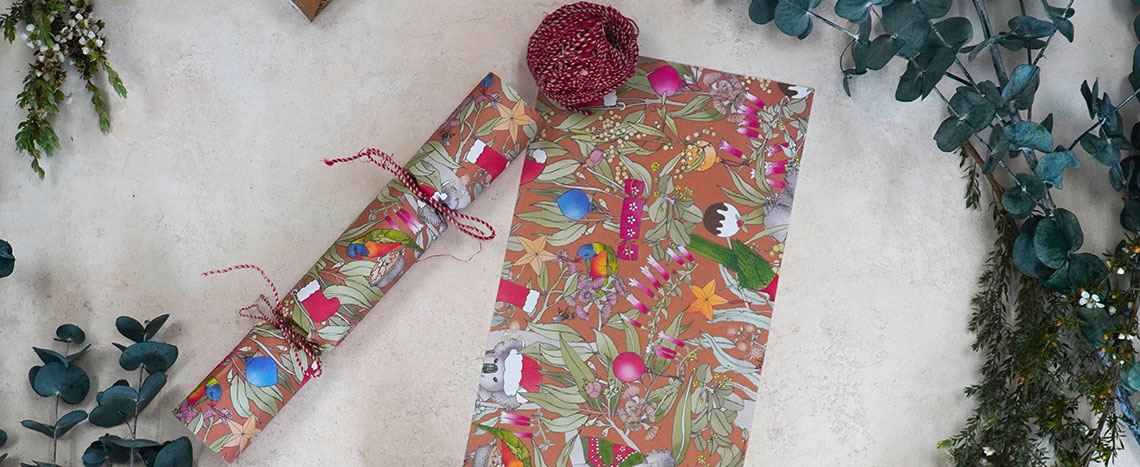 How to personalise your Eco Friendly Bon Bons
Now that you've built your bon bons the fun doesn't have to stop there. Decorate your bon bons with extra washi tape, stickers or ribbons. For a more earthy look, try using plain brown paper instead of patterned and draw, paint or print on your own designs. You can also get creative with washi tape or stickers. Check out our range of fun and colourful Washi tapes.
Need place tags for your table? Add a homemade tag to each bon bon with the name of each guest or use our Australian made and 100% recycled Christmas gift tags for some extra festive joy.
---
Leave a comment